Check him out...our new pet frog - cept he's not alive, and he's WAY bigger than any real frog I've ever seen, and, his best skill is not jumping or croaking, but holding bath toys, etc. in his tummy and mouth! ;) We got this adorable
Frog Pod
from
Boon
the other week! I have been wanting something like this to store bath toys in for a while...they were kind of scattered all over the sides of the tub...and the bathroom counter too! So, this is extremely handy, makes things look a MILLION times neater, and is cool and fun looking to top it all off!! I love it! It just HAS to be one of the neatest ideas around - actually
Boon
has tons of neat stuff, so if you want something modern and fun, check them out! Anyways, Tate thinks the Frog Pod is pretty cool too...if he could reach it while he was in the tub, he would probably spend 1/2 his time playing with it...but then again, he's very happy to get all those toys outta there to play with too! This is the body of the
frog pod
which detaches, so you can easily dump out or put in the bath toys...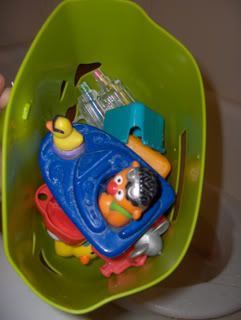 And there's lots of room in there! We have quite a few toys for bath time, but there's still room for a few more! ;) And if you look at the first picture you'll see that the
Frog Pod
can even hold stuff in his mouth! Like shampoo or soap, or whatever else you'd like...this Frog is EXCELLENT at multi-tasking! haha! He can even hold 'lil scrubbies, etc. on his toes...see?
Yep, like I said - this
Frog Pod
is good for tonz of things! And when you put all those soaking bath toys into him, there are holes for all the water to run out of...it works great! I put it through all the tests...and really, it does let all the water drain out!
So, to end of this post about our amazingly green and multi-tasking Frog (hehe) from this very unique and fun company called
Boon
, here is Tate enjoying his bath with his brand new
Frog Pod
! ;) It is so cool looking in our bathtub...I just can't get over it! haha! :)